Laura is Certified by the Center for Mindfulness at UMass Medical School to teach Mindfulness Based Stress Reduction (MBSR). Laura has been teaching mindfulness professionally since 2002, and has been an MBSR instructor since 2009. She is a dedicated student of Zen Buddhism, and a clinical social worker with over 20 years of experience. She has a golden retriever named Louis, who prefers walking meditation.
See Laura's CV below or learn more about what to look for in a mindfulness teacher.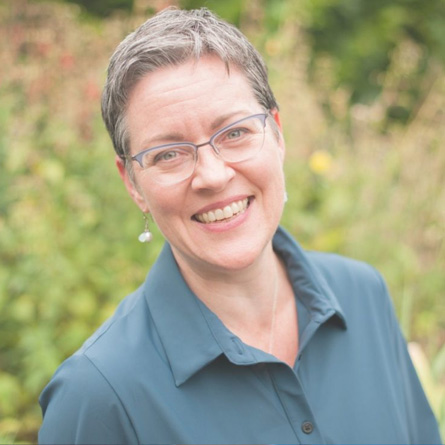 Three ways in which to work with Laura

Mindfulness Training
Learn how to meditate, and / or how to stabilize or deepen your existing meditation practice. Invite mindfulness into your life through guidance and education.

Psychotherapy
Address specific issues or get individual support in therapy. This may or may not have a mindfulness component.

Zen
Explore Buddhism with a Zen community, and what it might be like to have a teacher.
Education:
Bachelor of Social Work (1993) and a Master of Social Work (1996) from Southern Illinois University.
 Licensed Clinical Social Worker in Oregon since 2003.
Mindfulness Training and Experience:
Certified Mindfulness-Based Stress Reduction (MBSR) Teacher through the Center for Mindfulness at UMass Medical School. Certification (historically through UMass, now through Brown University) is — by design — a lengthy process, one you can learn more about here.

Teaching Dialectical Behavior Therapy (DBT) 2002, starting a DBT program in Columbia County, Oregon.Additional Training and Experience:
7-day MBSR in Mind-Body Medicine, a Professional Training with Jon Kabat-Zinn and Saki Santorelli in 2007. Center for Mindfulness, UMass Medical School.
9-day Practicum in MBSR with Florence Meleo-Meyer and Melissa Blacker in 2008. Center for Mindfulness, UMass Medical School.
Supervision and consultation with Florence Meleo-Meyer 2010 – 2014. Center for Mindfulness, UMass Medical School.
 Teaching mindfulness workshops and one-day events since 2009.
Teaching MBSR since 2009.
5-day training in Mindfulness-Based Cognitive Therapy (MBCT) with Zindel Seigel, Sarah Bowen, and Steven Hickman. January 2013. Center for Mindfulness, UCSD.
8-day Teacher Development Intensive in 2014. Center for Mindfulness, UMass Medical School.
MBSR Certification in February 2015.
Organized MBSR Teachers of the Pacific Northwest, and yearly Gathering 2015 – 2018.
Zen Study and Experience:
Completed a 3-year intensive study program for Community Zen Leaders in 2013.Practicing with Zen teachers Chozen and Hogen Bays in the Zen Community of Oregon since 2004.
Attended over forty 6-day or 9-day silent, teacher-led meditation retreats at Great Vow Zen Monastery since 2007. I continue to attend these 2-4 times per year when possible, and also attend retreats by other teachers from other lineages when possible.
Became a Dharma Holder in 2016, which confers some teaching permission and leadership responsibility.
Teacher Transmission conferred by Roshis Chozen and Hogen Bays, 2019.Member of the Lay Zen Teachers Association (LZTA)
Anti-Racism:
The work of anti-racism is a lifelong commitment. I include this with the recognition that much of what I have accomplished above has been accomplished within the context of white privilege. I have, and will always have, more to learn and do.
Organized and began offering Awakening to Whiteness through the Zen Community of Oregon, focused on dismantling white supremacy, 2016.
Ongoing group study and accountability, focusing on the writing of BIPOC authors.
Financial support of the following organizations:
– Equal Justice Initiative
– The Loveland Foundation
– Liberate